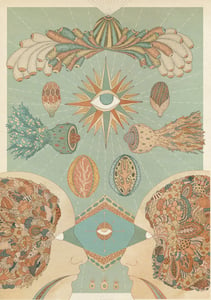 £

25.00
We've created a very limited five of each of the pieces from Synesthesia for early sale. Each is a Giclee print on Hahnemuhle Photo Rag paper. The quality is outstanding and each is signed by the artist. Size A3.
Synesthesia is a project combining cutting edge music and art in celebration five years of Senseless Records, read more at:
http://www.senselessrecords.co.uk
About the artist:
Katie Scott
Katie's arresting and varied work is intricate and detailed, balancing technical ability with a wild creative streak. She is a recent graduate of the The University of Brighton but has already created commissioned work for an impressive list of clients including BBC Radio 4, and BBC 2 on TV, Platform Magazine, Design Week. Expect to hear a lot more from Katie in the near future.