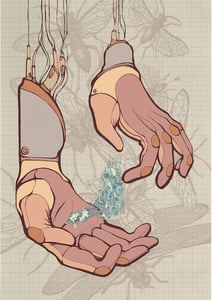 £

25.00 - On Sale
We've created a very limited five of each of the pieces from Synesthesia for early sale. Each is a Giclee print on Hahnemuhle Photo Rag paper. The quality is outstanding and each is signed by the artist. Size A3.
Synesthesia is a project combining cutting edge music and art in celebration five years of Senseless Records, read more at http://www.senselessrecords.co.uk.
About the artist:
London based artist, working across painting, illustration, sculpture, printmaking and murals. Recent exhibitions in Hong Kong and Tokyo alongside Dface, Swoon, Jeff Soto and Cyclops. Vesna works around the body and an obsession with the human (trans)form is evident in her pieces. Her blend of realism and abstract, beauty and ugliness is mesmerising.